2008 in music retrospective. I take on the albums I liked, I take down the ones I didn't like.
Elbow – The Seldom Seen Kid
How many fantastic records does a band have to put out to receive the acclaim they deserve? In Elbow's case, the answer is four, over a timespan of 18 (eightteen!) years. With their latest album they finally won the Mercury Prize. It's quite hard to believe that these guys aren't as big as Coldplay by now. Highlights of the album are The Bones Of You, Audience With The Pope (lyrics) and The Fix. Check this out if you haven't already – next to Doves, this might be the most underestimated British band.
Portishead – Third
Trip-hop. They must hate that term now, but it's what most reviewers would use to describe Portishead. It's a shame their greatest hit was the collaboration with Massive Attack (Teardrop). At the first listen, you'll fall in love with Beth Gibbons' voice. At the second listen, you'll be hammered numb with the distortion-packed on-repeat beats from the single Machine Gun (a big inspiration for my Massive Attack remix). At the third listen, they will take you down in the Pink Floydian Threads. She's always so unsure. I wonder why.
Justice – A Cross The Universe
An inevitable live registration of the live sets they gave with the (impressive) big-glowing-cross-and-shitload-of-amplifiers-and-effect-racks-setup. Sure, it is easy to sample We Are Your Friends (the remix that opened the doors for them) throughout the set, mixing it over all possible genres and letting the crowd beg for every word, but it works. It's not as fluent as the Daft Punk Alive mix (see last year), but it's got more volume and crowd interaction in it. Highlights are the Phantom 1.5 version (3:12), which has new synths mixed into it, Waters of Nazareth, which sounds even more brutal live, and a divine rendition of Stress (now with added police sirens).
The DVD documentary was OK, I loved the polarity betwoon the gospel-loving christian bus driver and the foul-mouthed gun-wielding tour manager. It disturbs me however, how far off the hook our new heroes of electro are. Xavier tries to light a girl on fire. Gaspard is in a perpetually drunk state. There's blood and guns and arrests. Rock and roll ? Maybe. More police sirens, I say.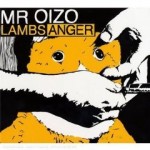 Mr. Oizo – Lambs Anger
Arretez de vous reproduire. Vous etes des animaux.Vous allez crever. The moustached electro-hero and his yellow friend Flat Eric are back.
Highlights: Positif, Cut Dick, Gay Dentists and Bruce Willis Is Dead. Just look at those song titles. Wait, here's another one: Nazis.
That's right. Nazis. Listen to it.
Cat Power – Jukebox
Her equally brilliant album The Greatest had to grow on me, but now it passes weekly. I wasn't used to listening to this kind of music. Dim the lights, light the fire and fire up the volume, this is as deep into the dark teatime of the soul as you can get. Highlights of this cover album is where she renders a Sinatra classic (New York, New York) bluesy and pays tribute to Billie Holiday (Don't Explain). And a personal favorite for sleepless nights: Hate.
The National – The Virginia EP
After discovering The National with their most acclaimed album (Boxer) last year, I've spent this year digging into their back catalogue for more. They released a b-sides album this year, bundled with a documentary by Vincent Moon (A skin, A night, see blogpost here). Highlights are the demo of a song called Rest Of Years (mix it down with proper strings and the woman's voice up front, and you've got yourself a song), the Neil Young cover Mansion on the Hill and a staggering live performance of About Today. After watching the documentary the second time, I've got to admit that it's a bit too arty-farty and depressing, though.
Headphone – Ghostwriter
A Belgian band I discovered this summer. They had two hit singles Ghostwriter and She Is Electric. The critics often dub this band Radioheadphone, because of the similarities. Although I wouldn't mind being compared to the greatest band ever (whoops !), these guys deserve to be cut some slack. Notable is the single Ghostwriter – danceable? – and the very touching outro Film, which features some sensual French text I still have to decypher!
MGMT – Oracular Spectacular
Yes, I've given in to the hip kids in town. Because this album stands for a new hype I've been following this year: remixes and mashups – main source: Hypem. It's stunning how many quality remixes and original versions of song surface the net every minute. This is how I discovered MGMT (which I often confuse with MSTRKRFT – what's with the capitalisation … you're reading DNT PNC right now!). Album highlights are Kids, Electric Feel and Weekend Wars. That last one is single material, MGMT. I'm talking to you. Quality remixes are the Justice version of Electric Feel – which doesn't touch the original tempo, and the Soulwax remix of Kids, although that last one made quite a lazy impression on me.
Eels – Meet The Eels
Recommended by a lot of friends, I finally got around to discovering Mr. E's music. Combine this with his Eels with Strings, Live At Town Hall album and you've got an afternoon of good music. Highlights of the album are Dirty Girl and an awesome cover version of Get Ur Freak On.

Kings Of Leon – Only By The Night
There are times when I can't bring myself to start listening to another indie-guitar-formation. Weak moments. Highlights of the album are dark opener Closer and the single Sex On Fire. Make sure to check out Lykke Li's cover version of Knocked Up too, it's on a b-side.
Soulwax – Most Of The Remixes / Part Of The Weekend Never Dies
Once again, it's been a great year for Soulwax. Still touring all over the world, remixing the big players (Rolling Stones) and producing for friends (Tiga, Das Pop). The Most Of The Remixes is a double-disc edition which contains the remixes they did on the first disc and all of them mixed together on the second disc, which was a bit unnecessary in my opinion. Dancefloor material: Gossip – Standing In The Way of Control and Klaxons – Gravity's Rainbow (the synths!). Special mention goes to Dj Shadow – Six Days, which brought me in contact with Dj Shadow's back catalogue. Cheers!
Part Of The Weekend Never Dies is a fast-paced (don't watch this if you can't stand strobing effects) documentary about Soulwax / 2ManyDJ's on the road. It's very entertaining, with tons of good music and interesting interviews. They're not afraid to show the crappy sides of living in a tour bus for god knows how many months, either. Extra's also include a live registration of Soulwax – Nite Versions, seamlessly mixed between different venues (audio/video wise). Highlights of the album are the live rendition of E-Talking and Washing Up, the bit where Altern8 – Frequency kicks in. Rave never dies?
Runner's Up
Albums that didn't make it into the top list, but are still more than worth checking out.

Tricky – Knowle West Boy:

Except from the bombshell

Veronika

and the beautiful

Cross To Bear

, this album contains for too mediocre tracks to stand out. Unnecessary and irritating Kylie Minogue cover (

Slow

) on top.

Lykke Li – Youth Novel

: This album still has to grow on me. A warm recommendation, especially if you like

Feist

.

The Last Shadow Puppets – Age Of The Understatement:

Strong singles (

Standing Next To Me

and

My Mistakes were made for you

)

,

but I can't get the hang of the beautifully orchestrated, yet bombastic fifties arrangements.

Verve Remixed Volume 4

: Not the best volume in the series, but a step forward from Vol. 3. Highlights are the Kenny Dope remix of

There Was A Time

by James Brown, and the pilooski take on Nina Simone's

Taking Care Of Business

. Huge dissapointment was the

Orchestral Manoeuvres in the Dark

remix of the classic

I get a kick out of you

. They added nothing but vinyl crack. 'Vintage', my buttocks.

Muse – HAARP

: Very convincing live album, but no

Plug in Baby

?

No

Agitated

? Nevertheless, the live version of

Take A Bow

is breath-taking.

dEUs – Vantage Point

:

The Architect

!

Eternal Woman

!

Gnarls Barkley – The Odd Couple

:

Run! Blind Mary!
Disappointments:
Coldplay – Viva La Vida

: Rather good single, but we've heard the rest of this album before.

Monkey – A Journey To The West

: Remember me stating that everything Damon Albarn touches turns into gold? I was wrong. This oriental music gets on my nerves quickly.

Thievery Corporation – Radio Retaliation:

A letdown by the Corporation. It's been a bad year.

La Femme Parallel

and

Sweet Tides

remind us of the good days, but the rest of the album is unmemorable.

Moby – Last Night

: Strong singles (

Alice

and

Disco Lies

), but rather uninspired ambient/electro/pop leftovers fill up the rest of the album.