Source Engine Modification / Retail Game: Nuclear Dawn
2006-08 – link (project website)
Nuclear Dawn is a multiplayer game project for the Source engine which centers around post-nuclear warfare. It started out as a total modification, but in 2009 the mod was handed over to Interwave Studios, who took the project to retail and aim for a public release in Q1 2011.
I was in charge of developing/optimizing the Linux server code and I have designed/implemented several HUD elements in the weapon selection system. For about a year, the PR and communication of the project was under my lead too. I helped the Interwave team work into the existing codebase and asset library during the transition, and wish them all the best.
---
Tuxracer Map: Crossover
2006 – link (download)
A medium-sized sliding course for the open-source racing game TuxRacer. Contains custom height maps for several key areas.
It features three paths which intertwine at several points along the slide, making it hard for the poor penguin to catch all the salmon.
---
Half-Life 2: Deathmatch map :Melawan
2006 – link
An early map for the Source engine in a middle-eastern setting. Due to time limitations I never developed it further than the geometry layout stage, details are not added yet.
This map was built using the early (alpha) versions of the Source SDK toolkit, so bear in mind that the supplied source files might have some quirks when you load them.
---
Non-Bruteforce Logic Sudoku Solver
Summer 2006 – Project website
A sudoku solver written in Java which uses known sudoku solving strategies, as opposed to brute forcing the puzzle starting from square 1 and backtracking on a dead end.
This solver is able to explain why some cell was marked found, and print the process leading to it. Info on how the algorithm works can be found here.
---
Atrium
2004 – link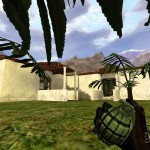 My entry for the Snarkpit.net 2004 Map Competition, called Mapping with a twist. My twist was texture limitation: this Roman-inspired map as a limit of 6 textures (light entities were included in the limit).
Building a full DM environment from scratch within the limitations was an interesting experience.
---
GoldSource / Quake3 engine articles
2003 – link

Several articles covering level design and the general toolset of two popular game engines.
(Well, in 2003, they were :))
---
NetVisXGUI
2004 – link
A user interface for Zoner's Netvis tools, which allowed mappers to distribute the VIS-calculations of GoldSource maps. Compile parties wee-hay.